Actress Juliet Ibrahim has sent some words of advice to young ladies on social media who parade themselves as slay queens to grow their brains instead of thinking of growing their backside and looking for their potential clients.
According to her, while they grow their butts through exercises and other procedures, they should also grow their brains by reading.
It's not clear why she will give such advice.
She posted: "Read books and do squats, grow your mind and butt".
See screenshot below: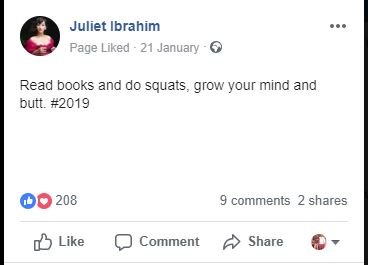 Some fans still abuse Juliet Ibrahim on Social media by saying
"No matter what you put on, your dysfunctional, ugly K-legs are revealed' – fan fights Juliet Ibrahim on social media"
To me, Juliet Ibrahim is super, very beautiful and very generous. She is the kind of celebrity I like. she is a role model.
Check out this: